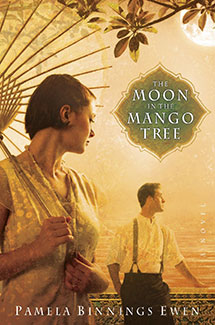 The Moon in the Mango Tree
ISBN-10: 0805447334
ISBN-13: 9780805447330
Broadman & Holman
Based upon a true story. Barbara Bond is beautiful, talented, smart, and she's trained for years to sing grand opera. But for the average woman in 1919 the idea of a career outside the home was a leap into the unknown. She marries Harvey Perkins, a medical missionary, sets aside her career for the moment-she believes-and travels with him into the jungles of Siam. There she struggles with her faith and the mission, all the while becoming enchanted with the local people and their culture.
Soon her love for Harvey is tested by a secret that rises between them. After several years they move to Bangkok, where Harvey is a royal physician. Life glitters here, but still she longs to sing. Can she have it all-Harvey and a career? It's the roaring twenties: Bangkok, Paris, Lausanne, and finally Rome. Here, alone in the shadow of Harvey's secret, Barbara faces the harsh choice between music and love.  But when you choose between two things you love, one is lost.
Pamela Binnings Ewen's book The Moon in the Mango Tree has won the Eudora Welty Memorial Award given by The National League of American Pen Women in their 2012 Biennial Letters Competition. The NLAPW, founded in 1897 is a professional organization for women artists, composers and writers founded in 1897 headquartered in the historic Pen Arts Building, formerly the home of Todd Lincoln, in Washington, D.C.
"Pamela Binnings Ewen wrote this richly detailed novel based on the experiences of her grandmother, who lived in Siam and Europe during the Roaring Twenties. The story thoughtfully and realistically describes the inner turmoil of this young woman as well as the beauty and dangers of Siam. Descriptions of the landscape and the people are so vivid that the reader becomes as enchanted with Siam as Barbara. The subtle inspirational elements enhance the plot without overpowering it. This is a thought-provoking and enjoyable story, difficult to put down. Highly recommended." –Historical Novel Society. Editors' Choice: Historical Novels Review/HNR issue 44 (May 2008)
"This rich, enveloping novel draws the reader in and won't let go. For an all too brief time, readers will find themselves living in another time, another place. Like Harvey's healing medicine, like Barbara's inspiring music, this fiction is a kid of gift as well." –Susan Larson, Book Editor, The Times Picayune
"…deeply moving…" –Romantic Times- Four Stars
"…rich and heartfelt…prose is laudably rich in specific and colorful detail…Ewen is a talented writer, and this is a strong addition to Christian fiction." –Publishers Weekly
"You will have to read this one to see just how far one sometimes has to go to discover what it really is that they want in life, what will make them feel complete. A MUST READ!" –Beyond Her Book Blog — PublishersWeekly.com
"Written in gorgeous prose, Pamela Binnings Ewen's remarkable novel enthralled me like no other has for a very long time. Set in exotic Siam and pre-war Europe, this story of a young woman seeking the truth of herself captured my heart. I loved it. –Bev Marshall, author of Walking Through Shadows, Right As Rain, and Hot Fudge Sundae Blues
"The Moon in The Mango Tree is an old-fashioned–I mean that in the best sense–tale of love, adventure, faith, and the clash of desire and duty. The writing is wonderful, the story compelling–who could ask for anything more?" –Bret Lott, author of Jewel (an Oprah Bookclub pick), Reed's Beach, and A Stranger's House
"[The Moon In The Mango Tree] is a very good read…fluid and evocative." –Wallace Westfeldt, author of With All Deliberate Speed and The First Hundred Days of John F. Kennedy; former Executive Producer of NBC Nightly News and the Huntley-Brinkley Report
"Lush with the detail of tropical jungles and the richness of the palaces of Siam, author Pamela Binnings Ewen takes us on a journey we hope will never end. The Moon in the Mango Tree is unlike any missionary story you'll ever read. Like a haunting song, we cannot rush this journey and yet we wish we could in order to discover before it's too late if Babs can find spiritual meaning in her life; if the unsettled desires steamed by the richness of the roaring twenties will lead her back to love or pull her apart. Truly a beautifully crafted story told with music that sings still in my ears." –Jane Kirkpatrick, author of A Mending at the Edge, A Tendering in the Storm, A Clearing in the Wild, and many others
"This novel is filled with the mysterious beauty of Siam, the flamboyance of Paris, and the easy, rolling life of Rome before World War II. It's a love story filled with adventure and sacrifice. Ewen tells an interesting, well-written, and totally captivating story here. You can't help but enjoy it." –Rita Quinton, TheCompulsiveReader.com
"You feel the oppressive heat of the jungle, the furious love between a man and a woman, and the feelings of loneliness from living with a man who is bound by duty to give his all to his patients while having little left to give at home. Placed in a time of fun, loud parties, and impressive party guests, The Moon in the Mango Tree makes you feel like you have stepped back in time and right into the action. This book will leave an impression on your mind and an imprint on your heart." –Kathy Fisher, The Romance Readers Connection