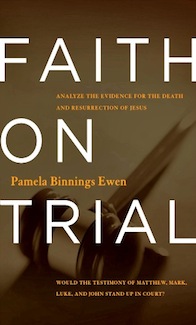 Faith on Trial
ISBN-10: 0805420266
ISBN-13: 978-0805420265
Broadman & Holman
Can we actually prove something that happened so long ago?
How do science and history support Christian faith?
Will the testimony of Matthew, Mark, Luke, and John stand up in court?
Want the facts? Sometimes the heart won't accept what the mind rejects. But Christianity is the only world religion based upon a "knowable" fact-the life, death, and resurrection of Jesus Christ two thousand years ago. After twenty-five years of practicing law, in Faith On Trial Pamela proves these events in the same way that any event in the past is proven in a courtroom today-through the testimony of credible witnesses and strong, extra-biblical corroborating evidence.
"Her book is a faith journey that is an eye opener and a heart warmer." –The Catholic Free Press
"Ewen's book is a must read for those interested in seriously looking at the historical evidence for Jesus." –Gospel Herald, Winnipeg, Manitoba, Canada
"Ewen offers the jury new and exciting archeological, historical and documentary evidence, scientific and medical evidence, and evidence presented by the arts and of statistical probabilities, all fascinating in its cumulative impact." –The Texas Episcopalian
"[Faith on Trial] builds a case by linking each piece of evidence to another, like a puzzle, until a solid picture appears." –Denver Catholic Register
"Now that moot courts have retried such notables as Lizzie Borden and John Wilkes Booth, who's next? The author, a partner at Baker & Botts L.L.P., puts the very divinity of Christ in the dock, in an attempt to lead readers down the path she herself traveled from agnosticism to belief. While it may be that her faith foreordained the verdict, her discussion of related legal issues, such as the admissibility of evidence and the credibility of witnesses, is firmly grounded." –The National Law Journal
"[Ewen] carefully sticks to the rules and traditions of the law, yet without slipping into obtuse language or legalese, and continually keeps the presentation in context while bringing in arcane elements, such as the archeological examination in 1986 of an ancient fishing vessel found in the Sea of Galilee and determined by radiocarbon dating to have been used between A.D. 20 and A.D. 40." –Midland Reporter-Telegram
"Faith On Trial has no dogma. It treats the question "did the resurrection occur or didn't it?" the same way federal courts treat evidence in civil cases." –Augusta, GA. Chronicle
"In a superbly documented legal analysis, Pamela Binnings Ewen argues convincingly that the Gospels of Matthew, Mark, Luke, and John represent eyewitness accounts that the crucifixion and resurrection of Jesus did occur. She uses archaeological and scientific evidence, much of which has only been available in the last few decades, to show that almost every event surrounding the fundamental testimony of the Gospels can be verified today." –James A. Baker III, former Secretary of State
"Attorney Ewen brings the question of Christ's divinity to a new level in her riveting search for truth." –Christianbook.com