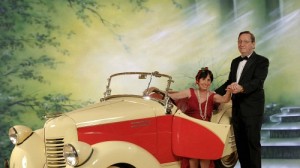 We're on the road again–Washington, D.C. to start our book tour for Dancing on Glass after some great signings  at home the first two weeks of August.  Garden District Bookshop in uptown New Orleans was first and Britton Trice and Amy made it festive with goodies to eat and drink and lots of fun. Bar pilot Jacques Michel showed up at this one. He and his wife Wendy and river pilot, Charlie Crawford and his wife Sherry, gave me lots of info and history for the character of Jude in Dancing. On the Mississippi River bar pilots guide ships over the treacherous sandbars in and out of the Gulf of Mexico. River pilots take the ships back and forth between New Orleans and Pilottown, a small island near the Delta passes. Pilots live for two weeks out of every month at their stations houses in Pilottown. 
Washington is our first stop on this book tour, but my first booksigning isn't until Tuesday at Rainbow Christian Store in Colonial Heights, Virginia–near Roanoke. So here we'll just visit the various bookstores to meet the people who love and sell books. I'll leave a copy of Dancing for their break rooms, and lots of bookmarks! Yesterday we toured the city on one of those double-decked red buses. Almost went flying off the roof of the thing when tree branches batted us around. Great way to get an overview of the city though–saw parts of the city we'd never seen before. Have to show you this great picture of the National Cathedral – such a beautiful building.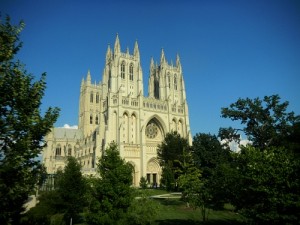 Went to the spy museum and thought we'd never get out of there. It's a warren of rooms with no exit and no one to tell you how to get out! Took about two hours–recommend you skip this one! But the Ford Theater's another story. This is one great museum–the theater where President Lincoln was shot by John Wilkes Booth. It's been restored to its original condition. Tickets are free if you buy them on the day you're going to go through it.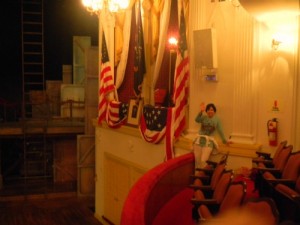 I'm waving to you in the picture, here standing right beside the balcony where Lincoln was shot. He was watching a play, along with his wife, Mary, when Booth walked in and shot him in the back of the head.
John Wilkes Booth was the organizer of a conspiracy–six people involved. When they were caught they were held in prison with hoods over their heads until they were tried and hung. Here's a picture of Booth's boot (found at Dr. Mudd's house — as in, your name is "Mud") and the white hood the prisoners wore. I guess they never saw daylight again after they were caught.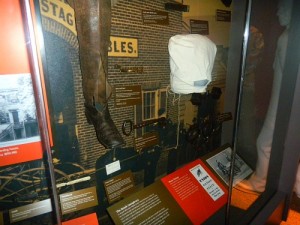 Note that the hood (the white thing) has a hole only for the mouth. No slits for the eyes.
Tonight if the weather holds up, we're going on a boat tour down the Potomac. Talk to you soon!  Pamela
Leave a Reply




Archives





Favorite Sites





Categories