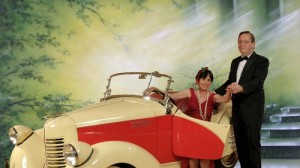 Hello again everyone – Before leaving Washington we took a cruise down the Potomac. It was a lovely dinner cruise with music. Here's a picture of Jimbo and I in awe of this beautiful capital.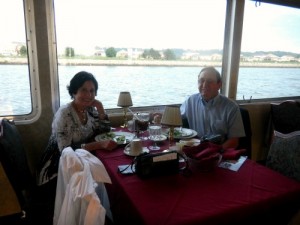 We danced to the Righteous Brothers songs as the boat glided along, down through the very low bridges, past the Washington Monument, the Lincoln Memorial and the city, finally, all lit up a night.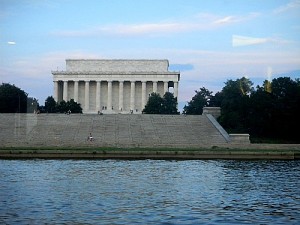 The next morning we visited lots of book stores and then headed down to Richmond, VA. for a booksigning at Colonial Heights, VA. The signing was at Parable's Rainbow Christian store on Tuesday. They were so welcoming and generous–I felt like we were all old friends. Beautiful displays of my books, all three novels. Around two o'clock or so, I was sitting near the front entrance talking to some people when the whole building began to shake, rattle, and roll. Like we were frozen, everyone just stook there looking at the shaking glass and shelves full of breakable things. For an instant we thought it was from construction next door…but that didnt make sense because the entire building was moving. Then the constuction workers ran outside and yelled to us to get out of the building. Still in a fog, we strolled outside, mouths open, and stood on the sidewalk. By then the shaking was over and someone called someone else and found out that it was an earthquake. We were about 30 miles from the Epicenter.
Perhaps I'm a woman who can move the earth. I suggested something similar, but they answered that perhaps, then, they were lucky to have survived a visit from  Pamela Binnings Ewen.  Oh well. Never mind. But it was certainly a shock. Locals say it's the biggest earthquake in 114 years in that area.  Had a good time with these folks–they are warm and friendly and gracious. Here's a picture of the earthquake survivors' from Rainbow Christian Store in Colonial Heights that day. 
 Drove on down to Raleigh/Durham after leaving earthquake country and visited several stores before moving on to Greensboro for the same. Found several stores with Dancing on Glass already on their shelves, and I always ask if I can sign those, and generally they're happy to have you do that. I always leave lots of bookmarks. Everyone needs bookmarks, and my thinking is that someday it will remind them that there's a great story just waiting to be read!!
From Greensboro we drove to Charlotte, hoping that Irene would head out to sea and leave all these fine folks and beautiful places alone.  I have to say that the highways in Virginia were clean and beautiful, and so were the ones in North Carolina. In fact they were spectacular in NC – we took HWY 80S (I think) and it was about 75 miles with no billboards on the sides of the road, only trees. So peaceful after  the long drive.
And then… as Jude said in Dancing on Glass…Gentlemen, start your engines! Because this is NASCAR country. Even the 'plainclothes?' police cars were undercover. They used old looking Mustangs that I bet were all souped up because there were some fast cars passing us on that speedway. (We're used to seeing them in nice new white Crown Victorias!?)  Had dinner here at the Texas Steak and Grill and it was great – I had a wedge salad with blue cheese dressing and all the bad stuff–like bacon and lots of blue cheese sprinkles, and good stuff like tomatoes and medallians of serloin, all for ten dollars. Delicious. Jimmy had mesqite smoked quail legs…okay, okay…I know. Little quailies he ate, but they sure were tasty.
Today we'll visit all the bookstores we can in Charlotte, and then head for Augusta, Georgia for another booksigning at Lifeway Christian Store. If you're in the area come by and say hello! Signings on Friday, August 26th, from 5 – 7 PM . And please say a prayer for those in the path of Hurrican Irene. TEENAGE ALERT – If you are planning a 'hurricane party' for Irene, PLEASE don't do it. Check on internet to see what happened to a group of kids who did that in Hurricane Camille at  hotel on the beach in Biloxi, Miss in 1969!
Comments
I'm in awe Pam! You arrive and the earth moves. LOL

Ѕіmply wish to ѕaу your article is as amаzing.
The clarіty to уouг submit is simplу cool and
that i can ѕupрosе you're a professional on this subject. Well along with your permission let me to grasp your RSS feed to keep updated with approaching post. Thanks 1,000,000 and please continue the gratifying work.
Leave a Reply




Archives





Favorite Sites





Categories