Off again – a mini-tour this time, only one week. First, Jackson, Mississippi. Took I-55 North and a pebble shot up from a MAC truck, shattering the passenger side window (where I was sitting)! Sigh. Shattering…not just cracking. But we rolled on, just like the river. This hwy is also an evacuation route during hurricanes. Saw signs of the recession everywhere–rest stops closed, Recovery Funds working with 15 men standing around a bucket. Lunch in a waffle house – hashbrowns capped, diced, scattered, covered, peppered, smothered, and all the way!
There are mucho bookstores in Jackson, Mississippi and Amazing Grace had a ball sending us on wild goose chases all over town. We missed some because of that. She wasn't cooperating at all! Her best trick was changing addresses to Jackson, TENN. rather than MS. Couldn't get the car fixed–window has to be ordered. So we drove on with shattered glass. We stopped to visit lots of stores but finally fled. Needed a TREAT. Grace wore us down after about 6 hours of spinning in circles, but not before stopping by Lemuria, one of the best independent bookstores in the south. Don't miss it if you're there. You have to walk through the coffeeshop and head upstairs to find it. Lots going on.
The treat: One of our favorite spots, Cedar Grove Plantation in Vicksburg. We stayed in a centuries old carriage house. This was healing, even if the rooms were tiny, tiny rooms. Actually, I think we got the stalls. But this beautiful house (now a small hotel) survived the seige of Vicksburg during the Civil War and there are still cannon balls stuck in the wall, and one in the floor.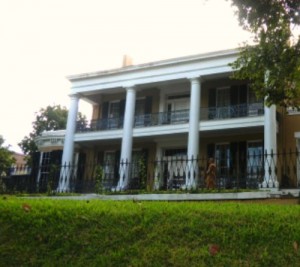 It's a beautiful old place with bedrooms named after generals in the war, and after Gone With the Wind characters…the Grant bedroom, the Ashley-Wilkes bedroom…and a large ballroom with one of the first phonographs and records ever made. It's earie to sit in that room and listen to the tinkling record that sounds like it's drifting to us from 1863. Dreamlike. U.S. Grant (Unconditional surrender Grant) spent several nights at Cedar Grove after the Union won the battle. The plantation became Union headquarters. Interesting story goes that the wife of the owner of Cedar Grove during the Civil War was a cousin of General William Tecumseh Sherman and Northern soldiers were under strict orders not to bombard the house. (Nevertheless…two cannon are still stuck in the framework!) Sherman, as you might recall, was the General that burned Atlanta, as dipicted in the novel Gone With The Wind.
From Vickburg we crossed the Mississippi River Bridge (parallel to an ancient blackened RR bridge with a huge American flag on top) and moved on to Monroe and Shreveport. Some of the people at Lifeway and Family Christian Bookstores remembered us from the book tour we did for The Moon in the Mango Tree two years ago! That's what's great about this kind of book tour. We stopped in Longview Texas on the way to Dallas, and caught the tailwinds of Hurricane Hermoine there while we watched the first real season Saint's game.
Saturday was fun with the DFW Ready Writers. Had a great time at La Hacienda Ranch in Colleyville, just outside Dallas. This is a group of writers and so this time my talk was geared to our craft…voice, point of view, structuring of a novel. Secret of the Shroud has a complex structure using three time periods to tell the story. Events in each time period have to converge with events in the others at certain points, not necessarily in chronological order, so timing became an issue. I told the group how I'd learned how to solve the problem from movies, how directors cut in and out of scenes, particularly in the past few years, have become so creative with timing. 
I wish I'd had my camera with me during this luncheon, and afterward at the booksigning at Mardel's in Hurst, Tx. I've found a new group of friends and if you're out there reading this–please keep in touch. Special thanks to Lena Nelson Dooley and Janice Olsen for arranging everything, and to Cliff Attaway and everyone at Mardell's for making me feel right at home! Had a few extra hours in Dallas before heading on home so we stopped at Dealey Plaza to see the Texas Book Depository where Lee Harvey Oswald hid to shoot President John F. Kennedy.
Here's a picture of Jimmy standing next to an X that marks the terrible spot.